Hours
Monday

9:00 AM - 8:00 PM

Tuesday

9:00 AM - 8:00 PM

Wednesday

9:00 AM - 8:00 PM

Thursday

9:00 AM - 8:00 PM

Friday

9:00 AM - 6:00 PM

Saturday

9:00 AM - 5:30 PM

Sunday

Closed
See All Department Hours
Dealership Hours
Monday

9:00 AM - 8:00 PM

Tuesday

9:00 AM - 8:00 PM

Wednesday

9:00 AM - 8:00 PM

Thursday

9:00 AM - 8:00 PM

Friday

9:00 AM - 6:00 PM

Saturday

9:00 AM - 5:30 PM

Sunday

Closed
Parts Dept. Hours
Monday

7:30AM-6:00PM

Tuesday

7:30AM-6:00PM

Wednesday

7:30AM-6:00PM

Thursday

7:30AM-6:00PM

Friday

7:30AM-6:00PM

Saturday

8:00AM-5:00PM

Sunday

Closed
Service Dept. Hours
Monday

7:30 AM - 8:00 PM

Tuesday

7:30 AM - 8:00 PM

Wednesday

7:30 AM - 8:00 PM

Thursday

7:30 AM - 8:00 PM

Friday

7:30 AM - 6:00 PM

Saturday

8:00 AM - 5:00 PM

Sunday

Closed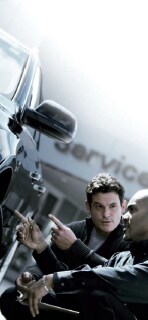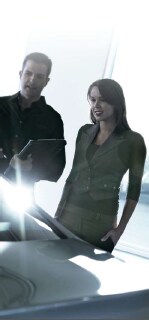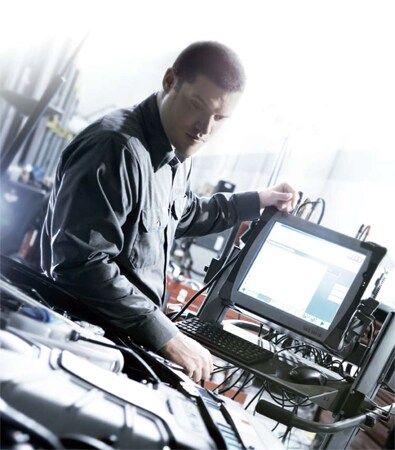 Enjoy convenience and peace of mind
With prepaid scheduled maintenance.
Your Audi Care Plan
Audi Care and Audi Care Plus: Premier maintenance for your Audi at an exceptional value
These scheduled maintenance plans are an excellent way to help keep your Audi performing at its best. Here are just some of the benefits you receive from Audi Care:
Audi Care offers you savings of up to 34% versus purchasing these services separately.
Prepaid scheduled maintenance every 10,000 miles from 15,000 through 45,000 miles precisely the intervals recommended by the factory.
Complete convenience: You're sent a reminder when it's time to schedule a service appointment.
The cost of the plan is fixed. Even if labor rates go up between services, Audi Care assures the prepaid cost.

Audi Care Plus
takes over where Audi Care leaves off, and is available for eligible Audi vehicles that have achieved or surpassed 40,000 miles. This makes Audi Care Plus perfect for Certified Pre-owned and Used Audi vehicles. It offers many of the same benefits as Audi Care, only at the 55-, 65- and 75,000-mile service intervals, as well as savings of up to 17% over purchasing these services separately. And like Audi Care, prepayment locks in the cost of all services covered by Audi Care Plus.
Audi Care Eligibility
Eligible models: MY 2008 and newer
Scheduled Maintenance Schedule:
15,000-mile service, 25,000-mile service, 35,000-mile service, 45,000-mile service

Audi Care Plus Eligibility
Eligible models: MY 2007 and newer
Scheduled Maintenance Schedule:
55,000-mile service, 65,000-mile service, 75,000-mile service

Pricing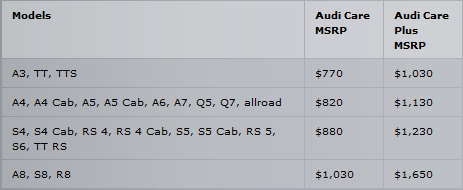 Your authorized Audi Dealer provides one-stop convenience for all maintenance, and the confidence that no one is better equipped to maintain your Audi.