Shop from the Convenience of Home with the Paul Miller Accelerator Tool
Looking for an ideal way to shop for a new Audi without making the trip to the dealership first? We've got you covered here at Paul Miller Audi with our convenient and easy-to-follow online shopping process. You can navigate the steps of shopping for a new vehicle, financing, scheduling a test drive, and more - all from the comfort of your favorite chair at home! Start your search today by clicking the Paul Miller Accelerator tool and find your next new Audi!


You can start the search by exploring our diverse selection of new and pre-owned Audi models to get a feel for the right vehicle. Our luxurious sedan, convertible, and SUV options deliver a world-class experience that you won't want to miss out on! Everything you find online is available at our dealership, and if you have any questions on the availability of a model, feel free to reach out to us over the phone or online!
When you're ready, click the logo to get started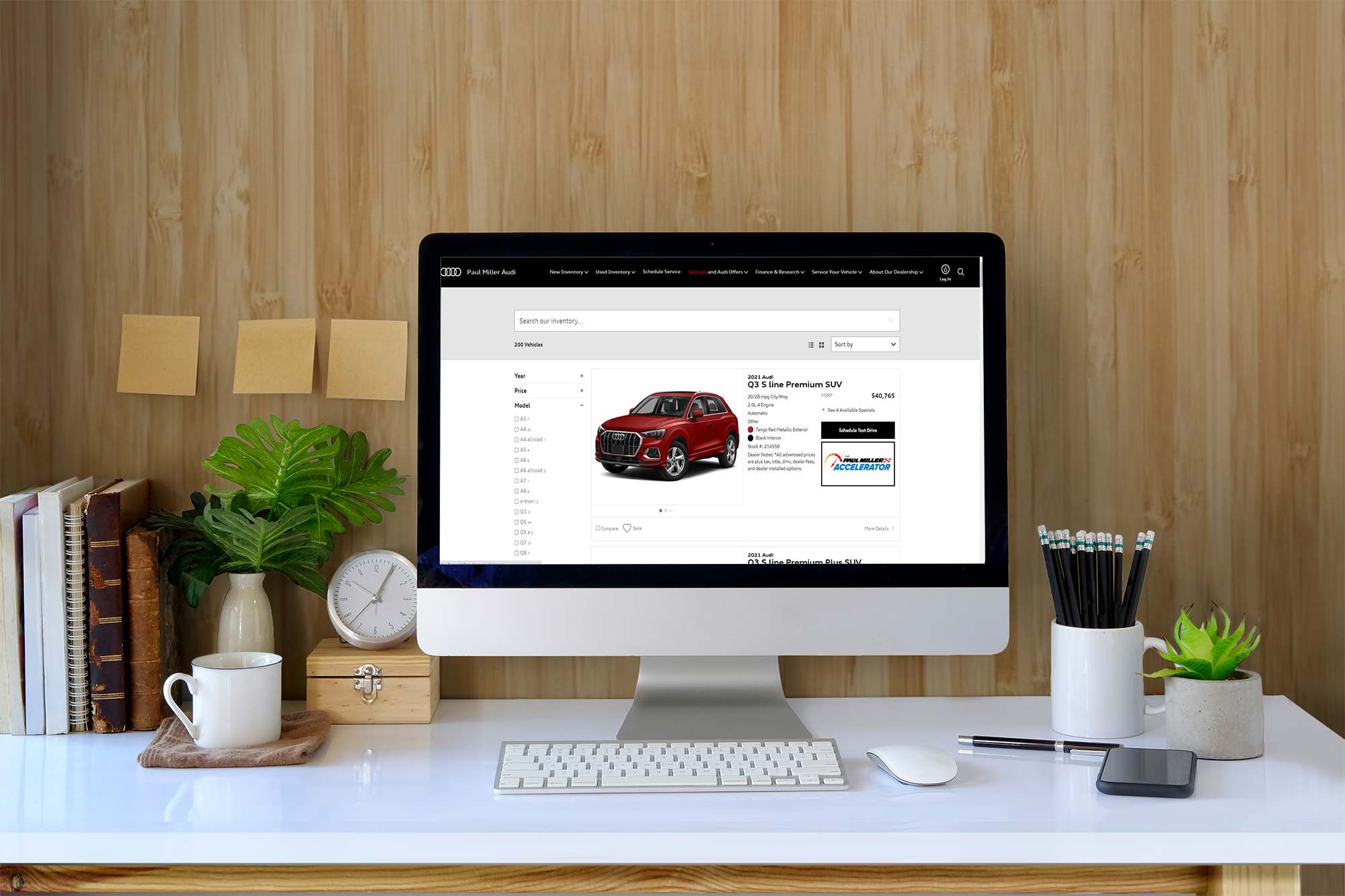 Step 1: Are you Planning to Trade-In Your Current Vehicle?
We can help you find value for your current model! Our online trade-in estimator allows you to input the relevant information regarding your model, including background and condition, and get an offer back based on current marketplace trends for that type of vehicle. The process is transparent, allowing you to use that amount towards a down payment on your new Audi.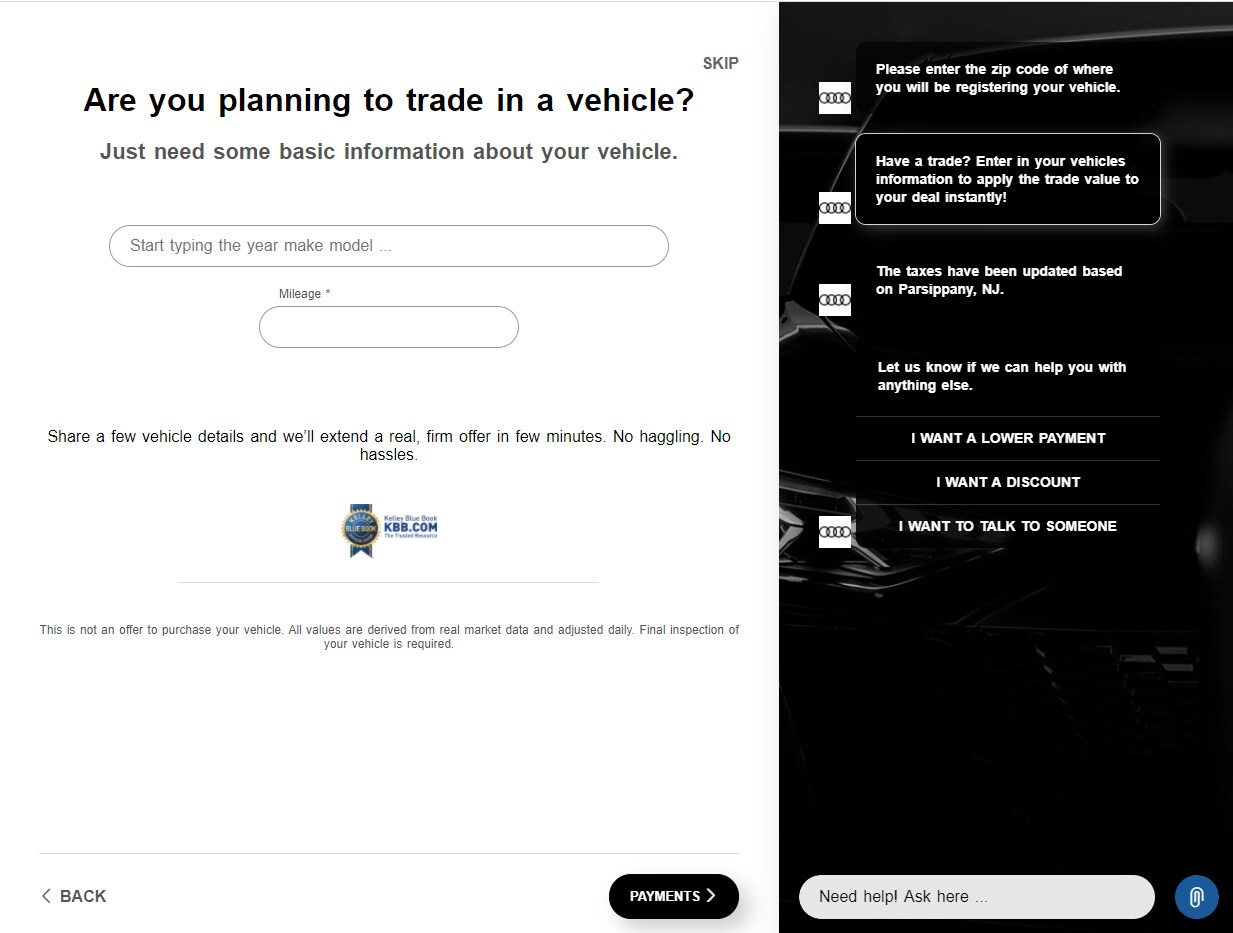 ---
Step 2: Calculate Payments and Check for Available Rebates
Once you know which vehicle best fits your lifestyle, you can use our online payment tool to calculate and set up a financing plan that works best for your budget. You can choose between lease, loan, or cash options, add in your down payment, and even customize the plan with your ideal term length, mileage amount, and interest rate! This tool will also help you explore available rebates for that model, helping you save even more!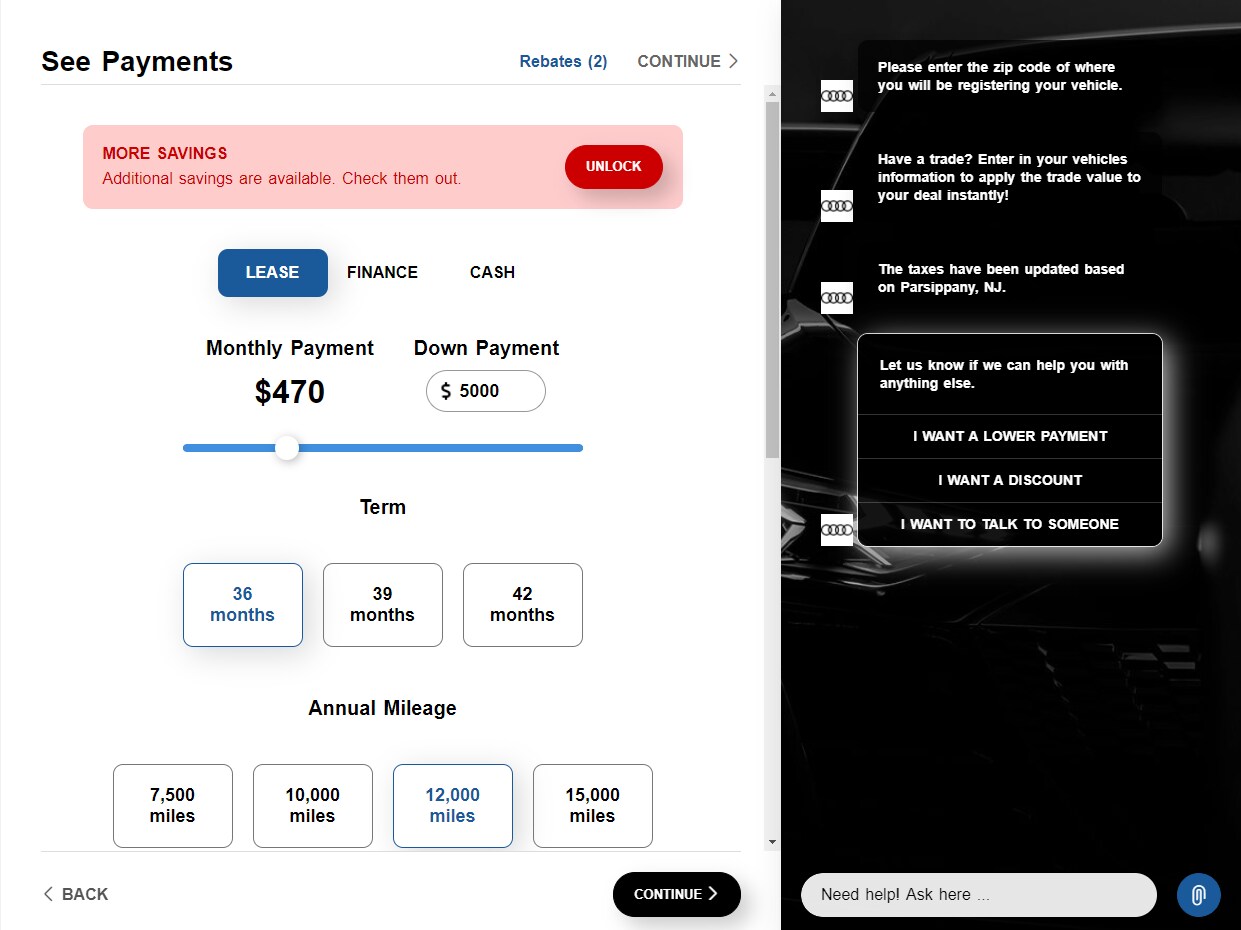 ---
Step 3: Add Your Contact Information to Keep In Touch
At this point in the process, we want to make sure we have a way to contact you and help you keep tabs on what model and payment plan you are looking at. This step will help us build your custom deal!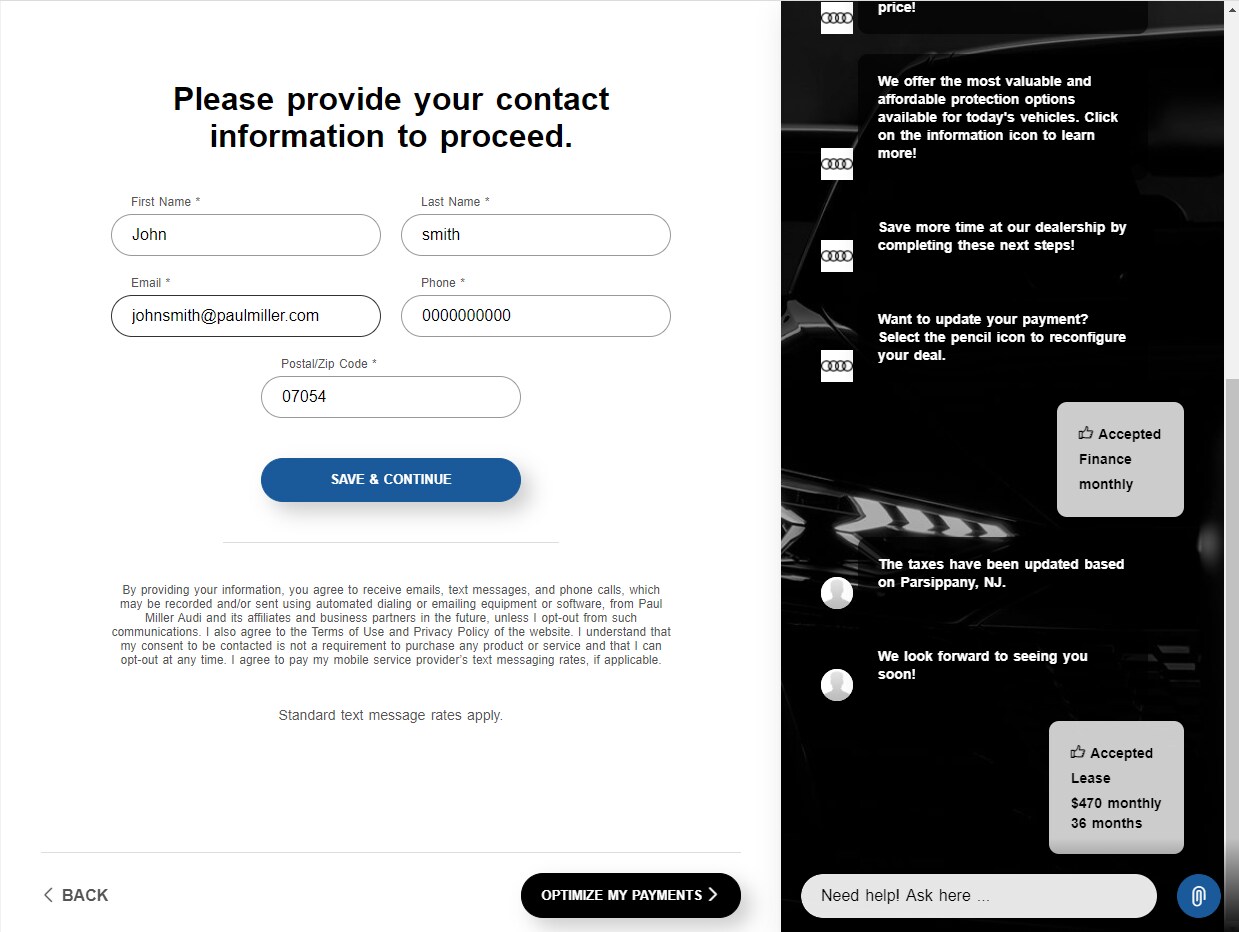 ---
Step 4: Skipped a Step? Don't Forget to Optimize Your Deal to Get the Best Price!
Even if you missed a step, that's okay! We want to make sure you are building an offer that gets you exactly what you expect to pay for your new Audi! Reach out to us with any questions you might have and ensure the deal is right for you.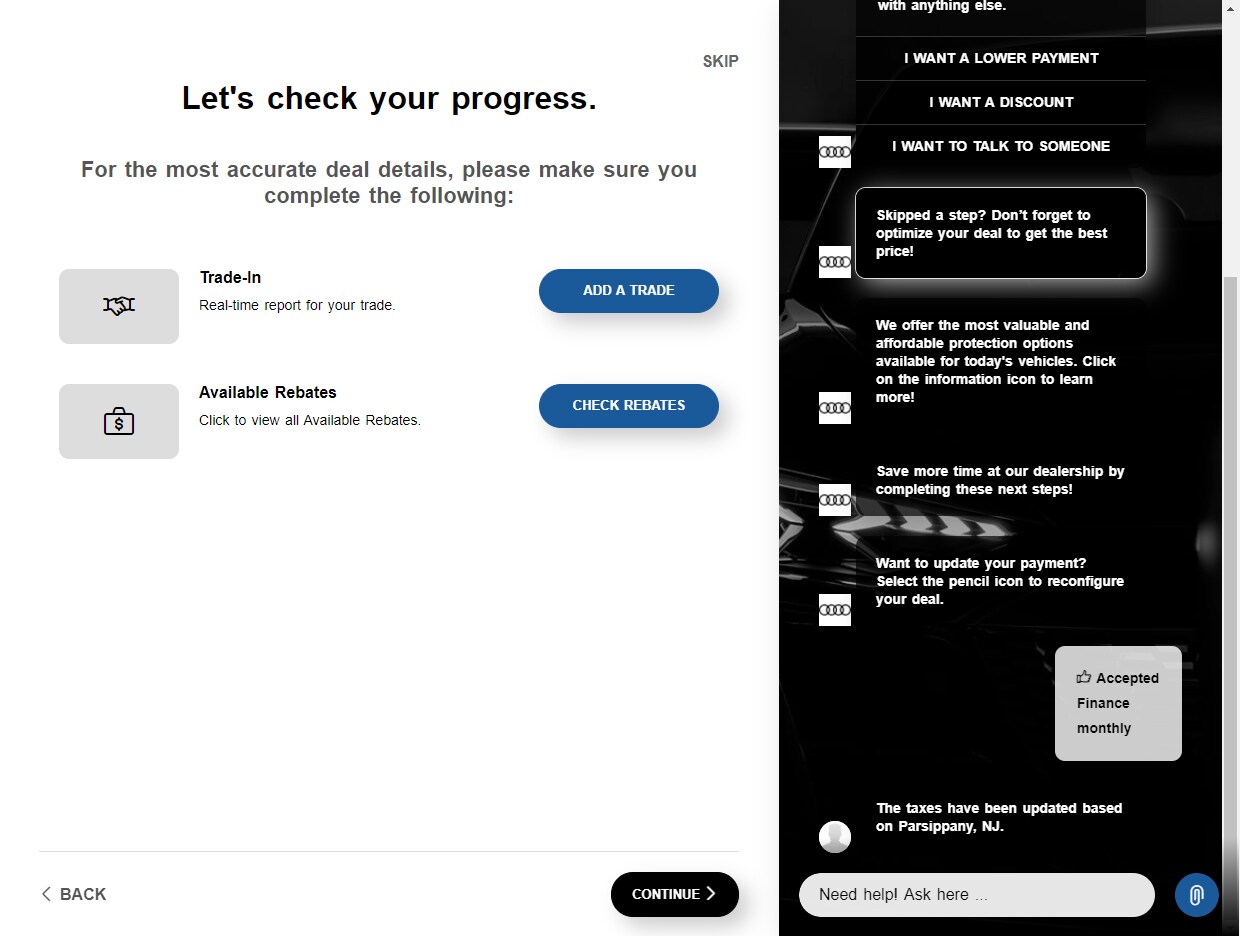 ---
Step 5: Optional Protection Products
Looking for added protection to provide peace of mind on your new Audi? Take some time to review your Audi protection options to get the most out of your ownership experience. With additional warranty and service protection, you'll be good to go!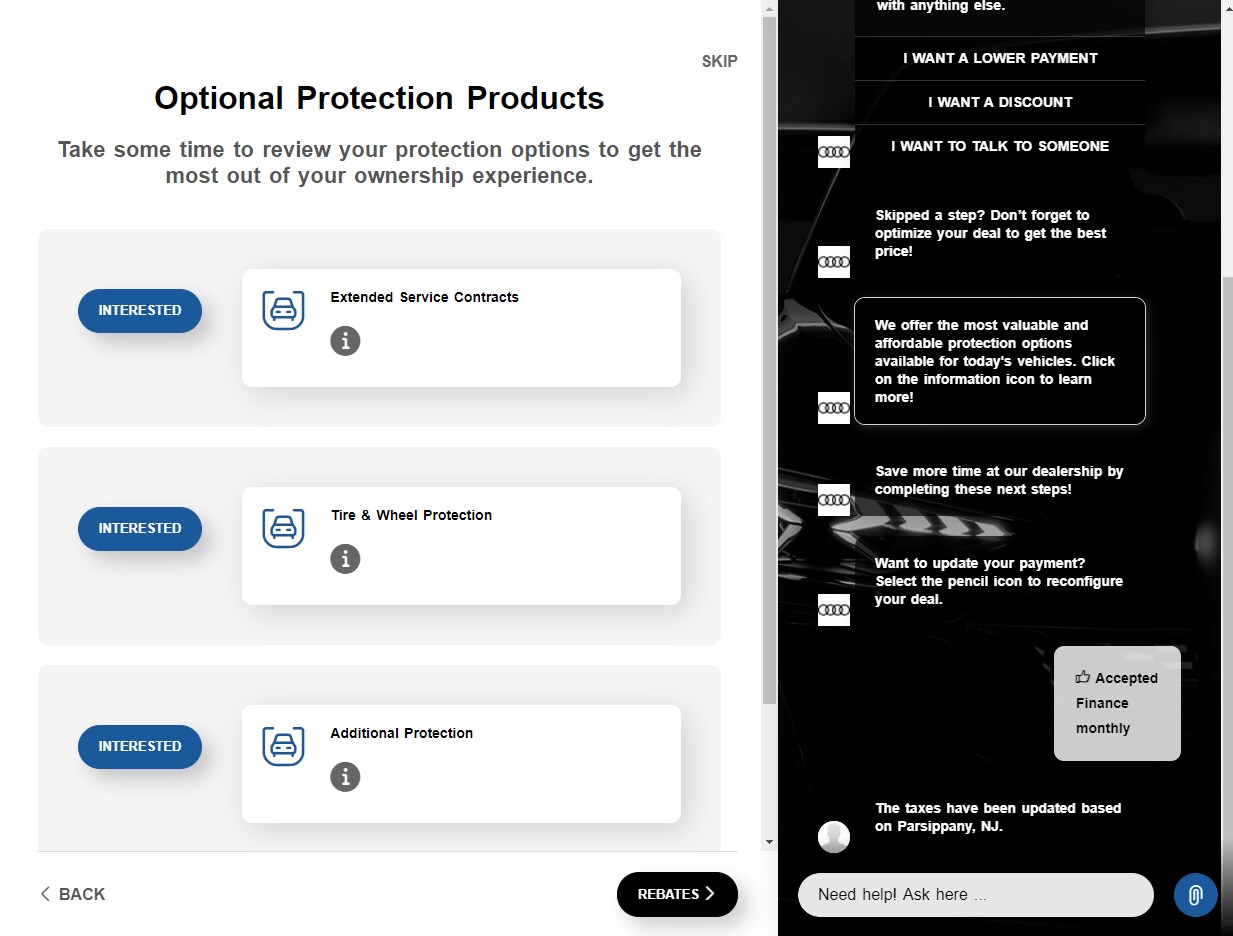 ---
Step 6: Apply For Credit
With the right payment plan in mind, you can apply for your loan or lease through our online financing application! We will partner with our network of lending institutions to ensure you get the perfect payment offer.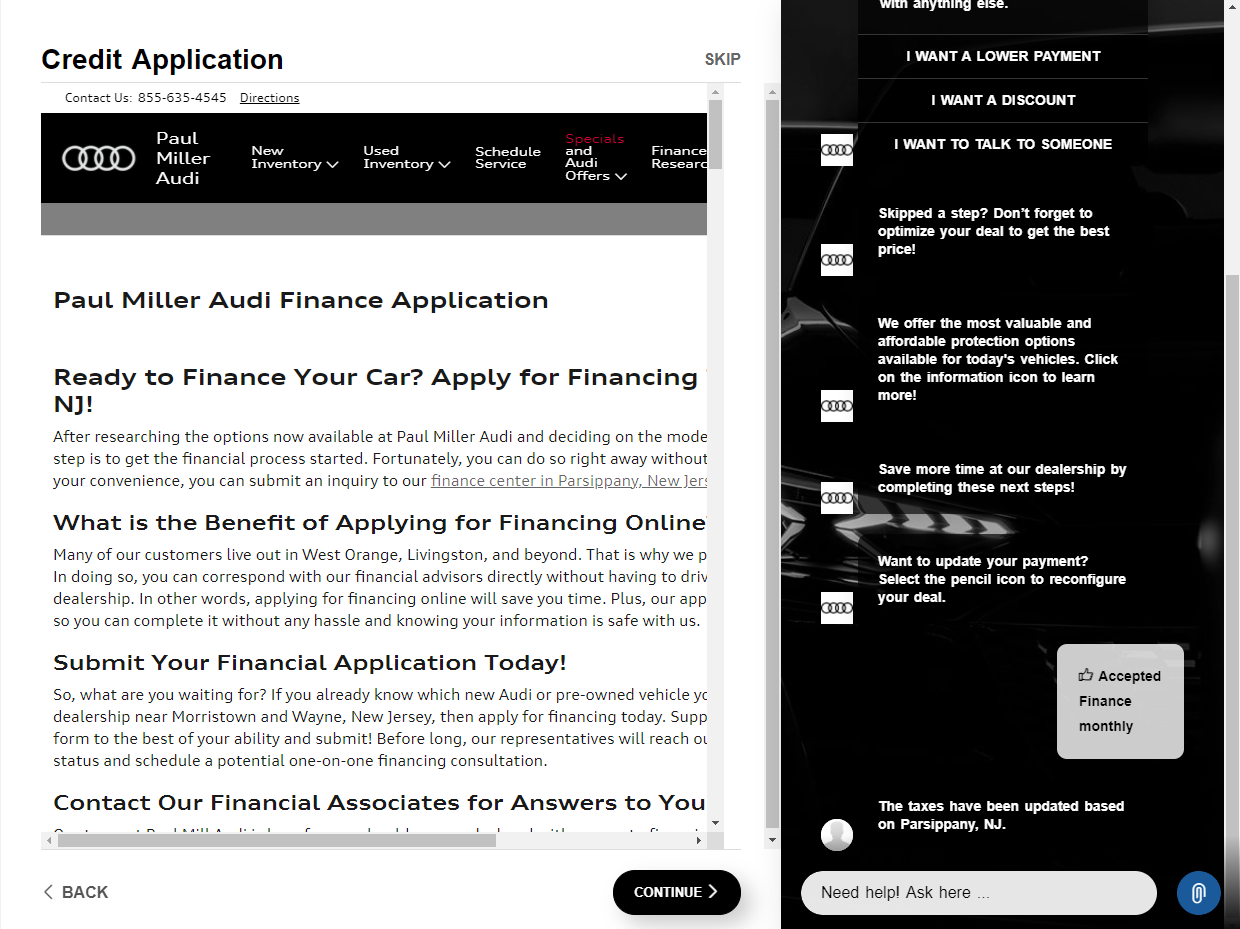 ---
Step 7: Schedule A Test Drive
Time to experience what your new vehicle can do! Schedule an appointment at our dealership to test drive your new Audi and learn about the exciting features and amenities it has to offer! A Sales Specialist can walk you through the new features that you will get to enjoy.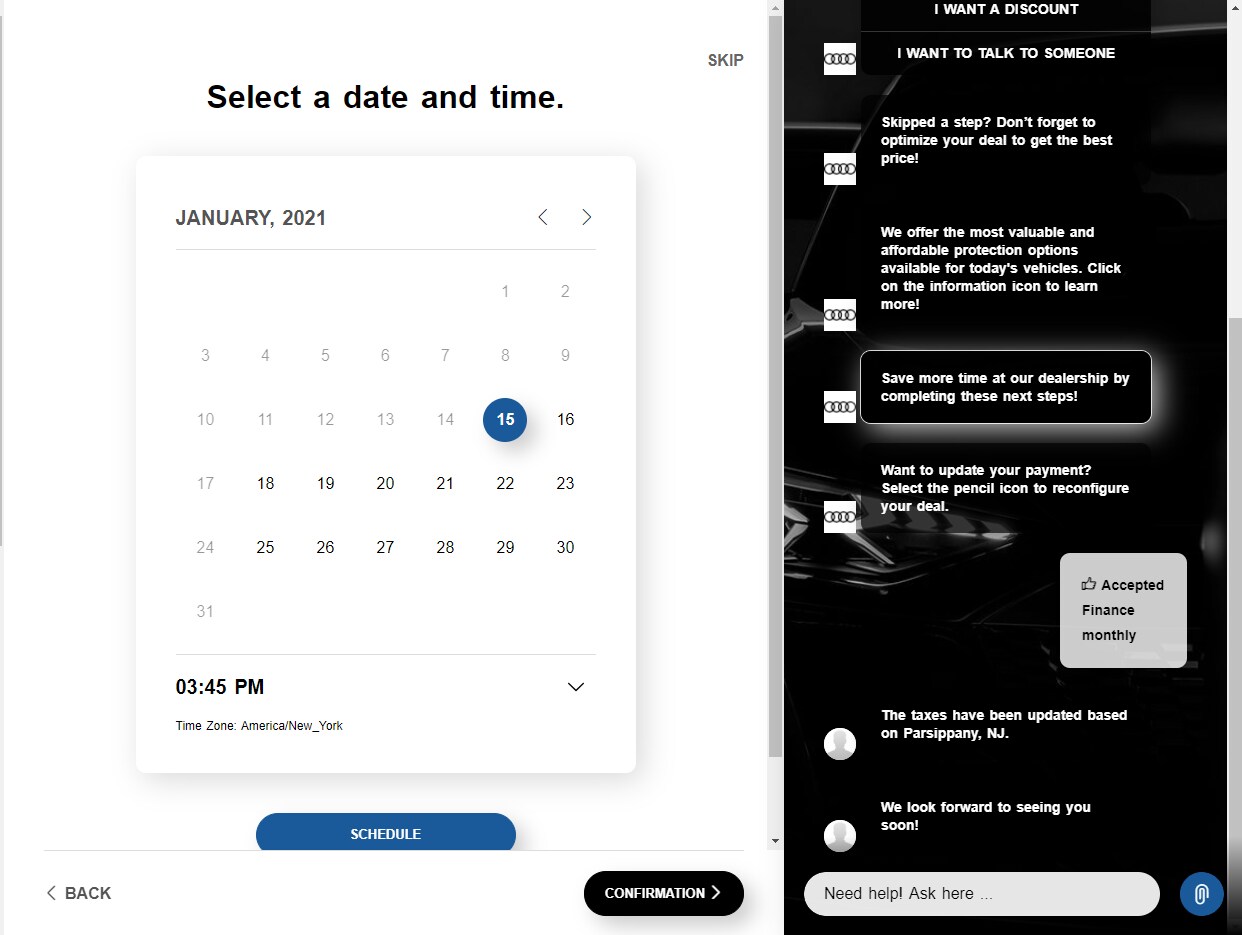 ---
Step 8: Upload Driver's License and Insurance Information to Speed Up Your Deal
By providing a copy of your driver's license and insurance card, you facilitate the online process and ensure that you get behind the wheel of the new vehicle as quickly as possible.
---
Step 9: Review Your Deal
Once your offer comes back from our lending institution, we can pass the offer on to you to review and accept! This is your chance to make sure the monthly payments are in line with your budget and make sure the vehicle is what you want!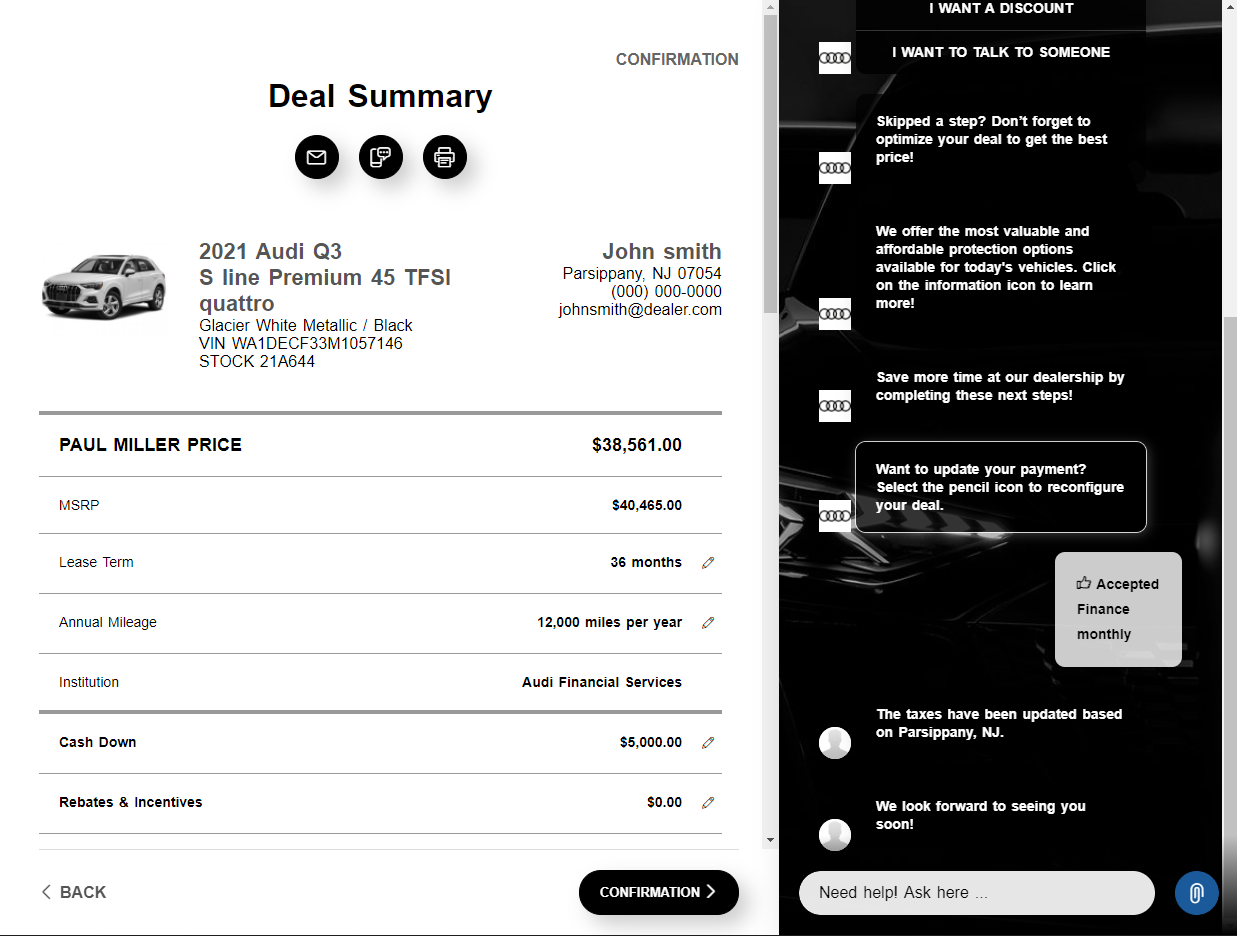 ---
Step 10: Receive Your Confirmation
Finally, once you have accepted the offer, you will receive a confirmation with the completion of your online shopping experience! You are now the proud owner of a new Audi!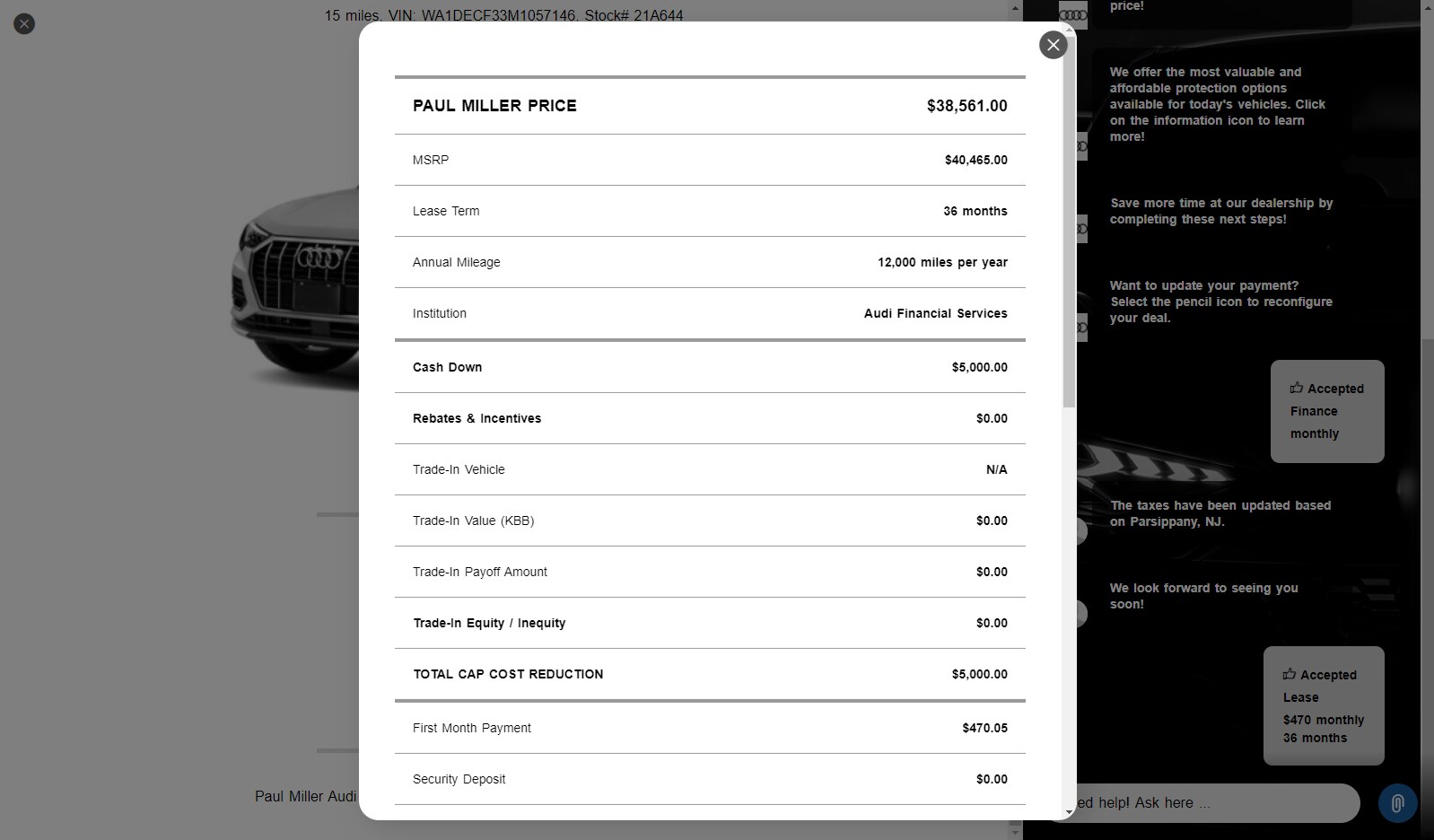 ---
Use The Paul Miller Accelerator Tool To Buy Your New Or Used Audi Vehicle
If you're looking for luxury, performance, and technological details in your next new car or SUV, you'll want to consider the collection of Audi vehicles at Paul Miller Audi. From the stunning Audi A4 to the brilliant Audi Q7, our lineup of brand-new Audi cars and SUVs is expansive. Interested in a used vehicle instead? We have multiple like-new models available as well. Whether you're purchasing a brand-new Audi car or SUV, like the Audi Q5, Audi S3, or Audi A6, or you're buying a certified pre-owned Audi model, our Paul Miller Accelerator tool is available for you to use. Simply select which vehicle you'd like to purchase and follow our Accelerator tool instructions above to buy the new or used Audi car or SUV of your dreams.
Want To Learn More? Contact Us At Paul Miller Audi Today!
Do you have questions about the Paul Miller Accelerator Tool process? Would you like to know more about the Audi model that you are interested in? Is there any other way that our team at Paul Miller Audi can help you? Feel free to contact our Paul Miller Audi dealership or stop by our Parsippany, NJ, dealership at your next convenience. We'd love to answer any questions that you may have and look forward to helping you find and purchase the right new or used vehicle that fits you best.
Contact Us