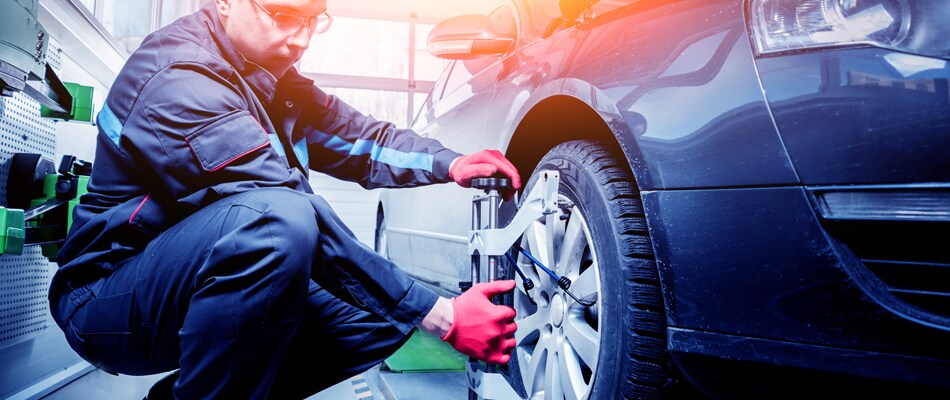 Don't Let Your Tires Stay Out Of Alignment, Stop By Paul Miller Audi Today!
Did you finally hit that one massive pothole just right? Did you accidentally run into the curb as you were parking in Parsippany? Have you been in a slight fender bender and now your tires just don't feel like they used to? You may need a tire or wheel alignment and Paul Miller Audi is here to help!
How Do I Know My Car Needs A Tire Alignment?
Even though it's called a "tire alignment," your car's suspension is what is being adjusted or fixed. Basically, when you hit your tires hard enough, the angle of the tire will become out of sync. In order to get your vehicle running the way it should, you'll need to have a trained technician adjust the angles of the tires and get it back in perfect position.
You'll know your car needs a tire alignment if you see any of the following warning signs:
Pulling - Is your car pulling to the left or the right when you drive, instead of going straight?
Off-Center Steering Wheel - When you're driving straight is your steering wheel not centered?
Vibration - Does your steering wheel vibrate when you drive, especially when you turn?
Uneven Wear - Do your tires have a significant amount of wear on one side?
Contact Paul Miller Audi For Your Next Tire Alignment
If you've noticed any of the above signs, our technicians would love to take a closer look at your car, truck, SUV, or van. We'll check the camber, toe, and caster of each tire, we'll make sure your tires are perfectly balanced, and we'll inform you if you should replace any overly worn tires to avoid a flat later on down the road. We want to ensure that your drive is as safe as possible, and a good wheel alignment will help accomplish that goal.
Hours
Monday

9:00 AM - 8:00 PM

Tuesday

9:00 AM - 8:00 PM

Wednesday

9:00 AM - 8:00 PM

Thursday

9:00 AM - 8:00 PM

Friday

9:00 AM - 6:00 PM

Saturday

9:00 AM - 5:30 PM

Sunday

Closed