7 Audi on Demand Rental Days at No Charge
You can get 7 Audi on Demand rental days at no additional charge when you purchase or lease a new Audi vehicle, 2019 model year or newer. Limitations apply.2
It's time to plug in and turn on.
Our electric reality is one where design, performance and innovation plug into elevated versatility and DC fast-charging capabilities at commercial charging stations. We take electric vehicles and give them Audi DNA to turn the world on to a limitless EV future.
Everyday driving meets an extraordinary drive.
Remote Climatization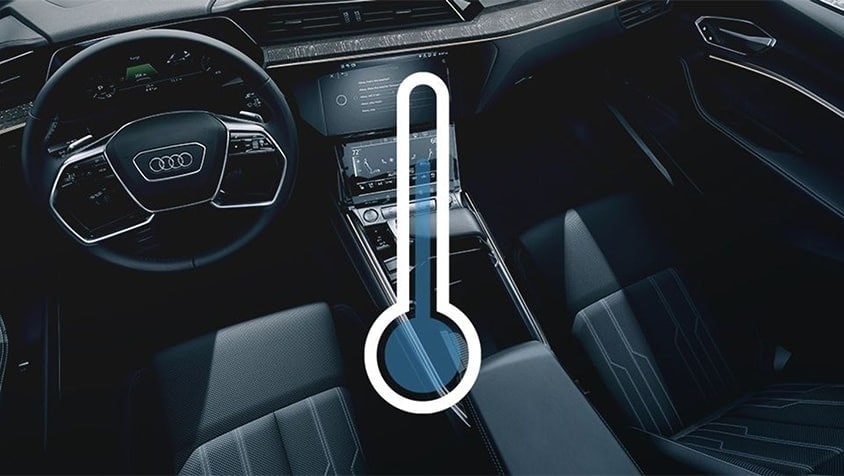 Program your perfect temperature ahead of time with the remote climatization on the myAudi app, so you can cool down or warm up your vehicle before getting behind the wheel.
Remote Charging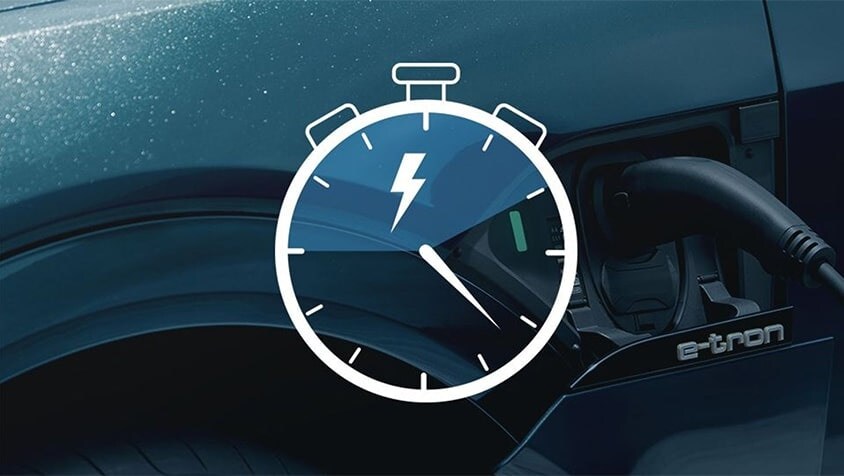 With the myAudi app and an Audi connect CARE subscription, you can plan, remotely control and monitor the charging process for your e-tron Sportback, so you know when you can unplug and be on your way.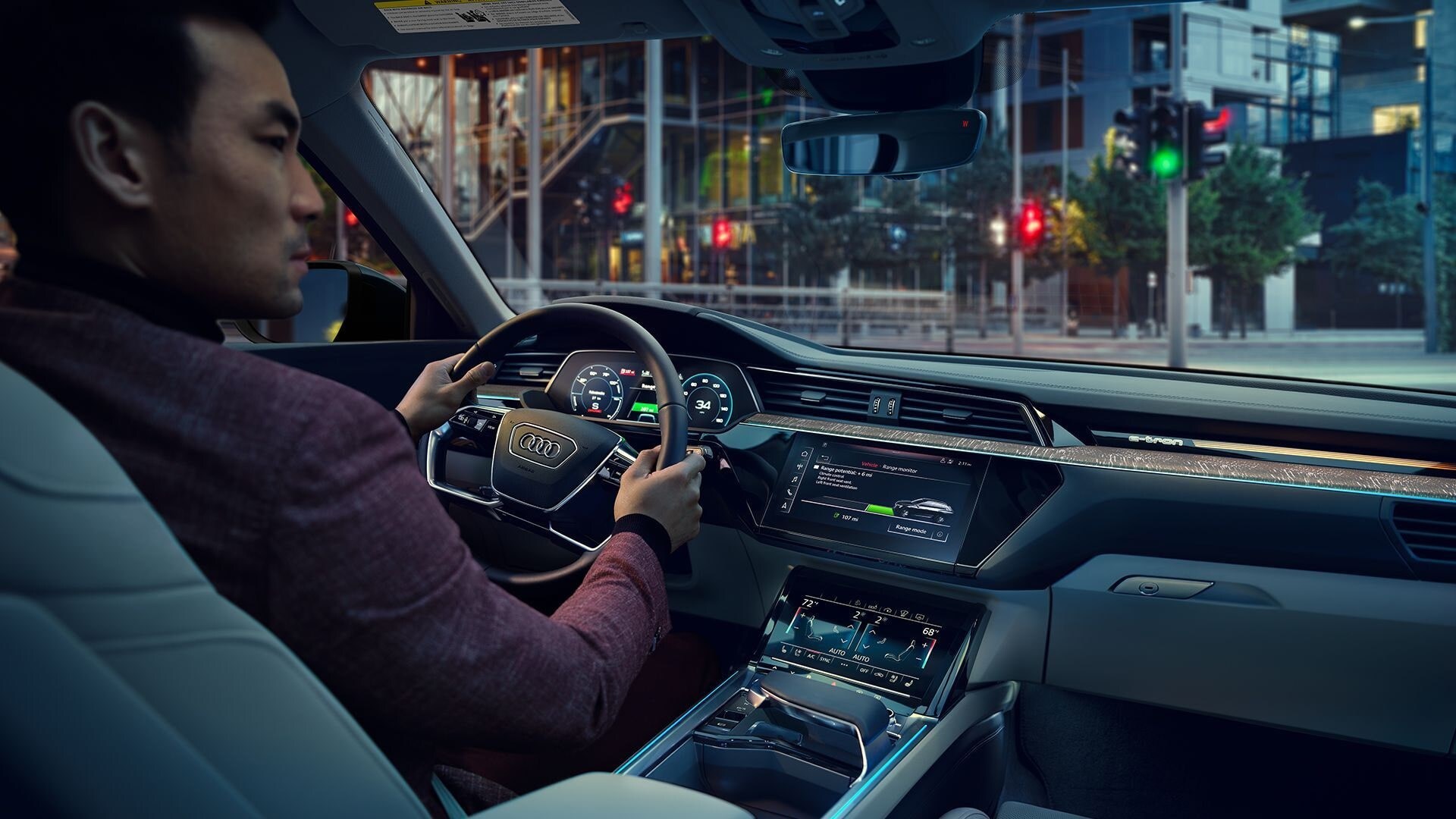 Premium craftsmanship
From a variety of stylish natural wood inlays and accents to the premium stitching and ergonomic design of the instruments, the interior craftsmanship of the e-tron Sportback defines the difference between an EV and the all-electric luxury of Audi.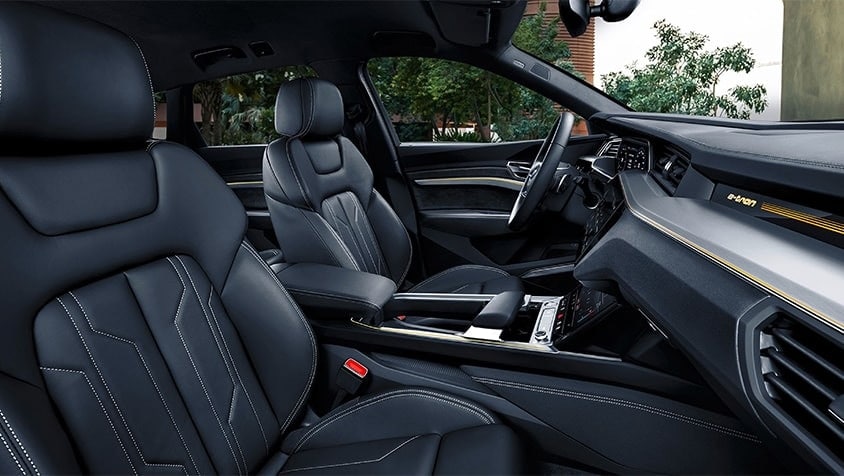 Heated, ventilated massage seating
There's a premium feel in the cabin of an e-tron, which you can enhance with available ventilated 18-way power individual contour comfort front seats with massage functions wrapped in Valcona leather.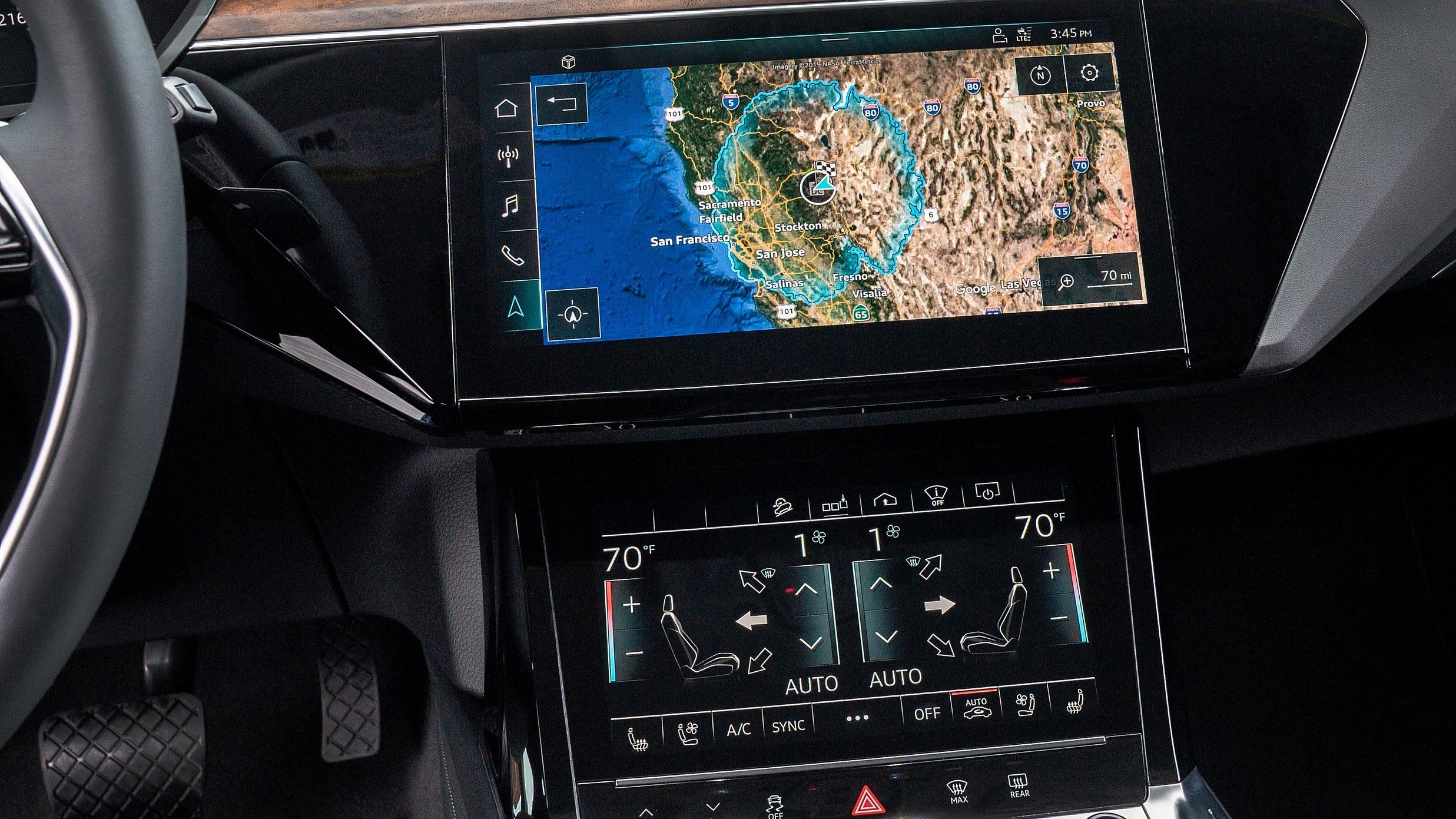 Infotainment system
Easily manage an array of functions including navigation, entertainment and ride dynamics with the 10.1" screen of the Audi MMI® touch response system.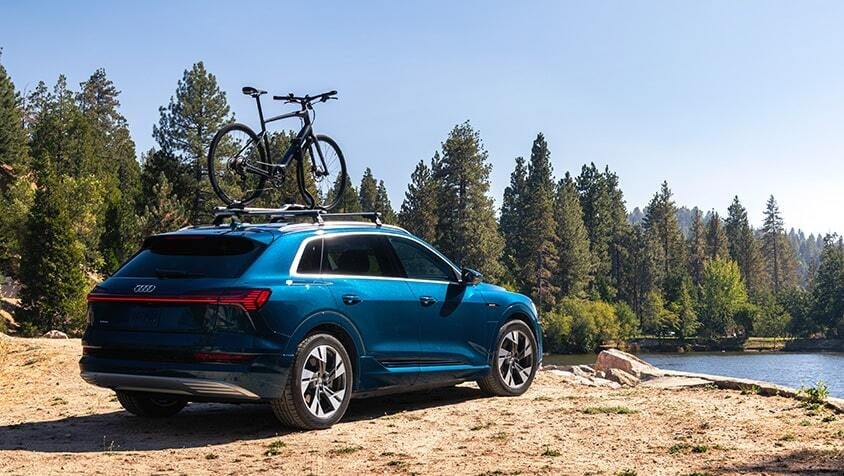 quattro® technology
This is the next generation of quattro®. Building on decades of engineering, the e-tron®'s new electric quattro all-wheel drive provides exceptional control and confidence in all kinds of driving conditions.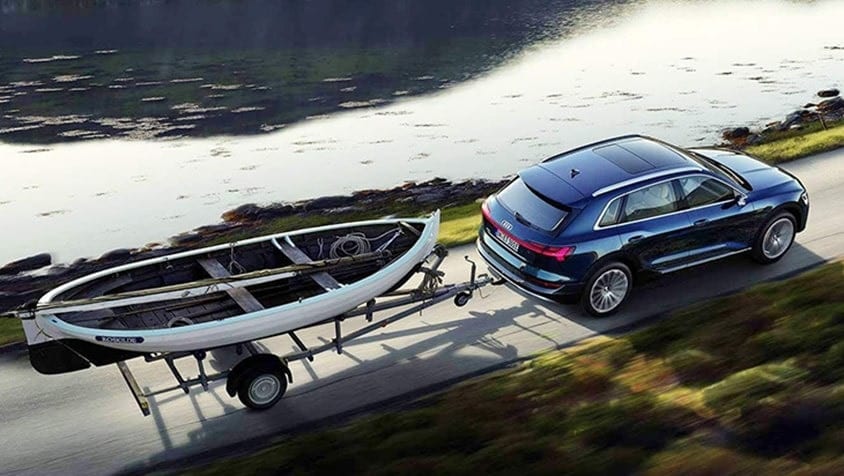 Towing
With a max towing rating of up to 4,000 lbs when properly equipped, this is an electric SUV that actually performs like an SUV.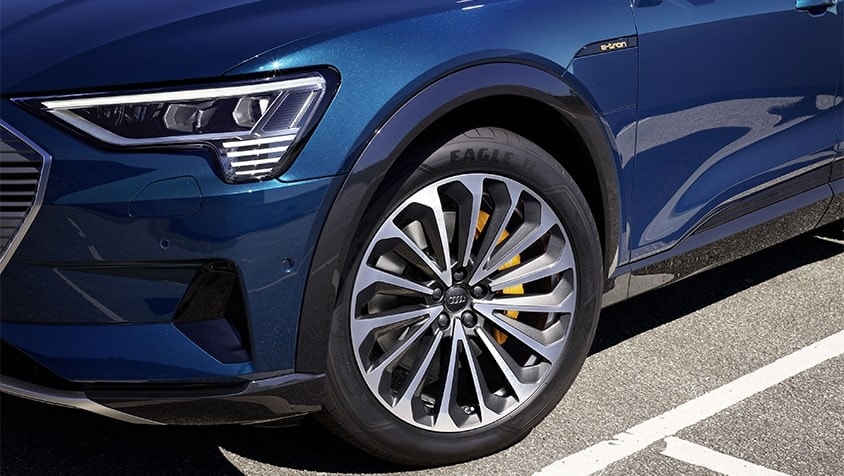 Air suspension
Five suspension modes and an all-wheel air suspension system elevate your driving experience for comfort, performance and efficiency. Standard on the Audi e-tron®.
Which EV is Right for Me?
What are the Differences Between Battery Electric, Plug-In Hybrid, and Traditional Hybrid?


 
Battery Electric - Fully electric with no gasoline or additional fuel input.
Plug-In Hybrid - A great combination of electric and gasoline power. Can be used as purely electric for a short amount of time.
Traditional Hybrid - Uses a gasoline engine that's enhanced and given more power by an electric motor.
What are My at Home and Public Charging Options for Audi EV?
At-Home Charging Options - For easy at-home charging, we recommend having a Qmerit system installed in your garage or driveway. Most models often come with a plug that can be used on traditional outlets as well.
Public Charging Options - There are many public charging options available, including the network of Electrify America stations. These tend to be quick charging and prepared to get you going in no time.
What are the Audi EV Models?
1 The incentives referenced are for informational purposes only. This information does not constitute tax or legal advice. All persons considering use of available incentives should consult with their own tax or legal professional to determine eligibility, specific amount of incentives available, if any, and further details. The incentives are not within Audi's control and are subject to change without notice. Interested parties should confirm the accuracy of the information before relying on it to make a purchase.

2 This is a limited time offer. Audi and Silvercar by Audi reserve the right to modify or cancel the promotional offer at any time. This offer is only available to individual purchasers or lessees of new Audi vehicles, 2019 model year or newer, in the United States between August 19, 2019 and December 31, 2021. If qualified you will receive a Redemption Code via email once vehicle purchase has been completed, which may be redeemed for seven (7) Rental Credits with Silvercar (each credit representing a one day Silvercar rental). Purchases of certified pre-owned and used vehicles do not qualify. If there is more than one listed purchaser of an individual vehicle, only one Redemption Code will be issued for use with the Silvercar account of one of the purchasers. This promotion is not available in connection with fleet purchases. You must be a Silvercar customer in good standing in order to use the Rental Credits which may be accessed using the Redemption Code provided to you. If you are not already a Silvercar customer, you must download the Silvercar app, sign up for the Silvercar service and agree to the Silvercar Terms of Use and Silvercar Privacy Policy (available at www.silvercar.com). You must agree to Silvercar's rental agreement and meet Silvercar's rental requirements, including but not limited to having a valid driver's license, an eligible driving history, and minimum age requirements (as permitted by applicable law). Rental Credits expire 12 months from the delivery date for vehicles purchased in 2021, 24 months from the delivery date for vehicles purchased in 2020, and 36 months from delivery date for vehicles purchased in 2019 and during that period must be used if available in your account (i.e., you cannot choose to pay for a rental day if a credit is available in your account). If the Rental Credit balance is not sufficient to cover the entirely of a particular booking the difference shall be paid using other Silvercar offered payment methods. Unused Rental Credits will not be refunded. Violations of the Silvercar rental agreement or Silvercar Terms of Use may result in a forfeit of any unused Rental Credits. Rental Credits are transferable by following Silvercar's then current credit transfer policy. Rental Credits may not be sold by vehicle purchaser, lessee or any subsequent transferee for cash or other value to any party. The Rental Credits do not include, and you are responsible for paying, any taxes or additional fees associated with the rental, including without limitation driver age surcharges, tolls, violations, fuel charges, and optional fees such as Insurance, collision damage waiver, and other optional coverages. Successful redemption of the Rental Credits is subject to the availability of rental cars. The Redemption Codes and Rental Credits have no cash value. The Rental Credits cannot be combined with other promotional offers.

3 Charging times will vary and depend on a variety of factors, including ambient temperature, charger type, battery condition, vehicle condition and others.