Getting more from less.
Audi pioneered TDI® clean diesel engines to deliver more torque, lower fuel consumption and reduce CO2 emissions, compared to equivalent gasoline engines. The result of this revolutionary engineering delivers remarkable performance, while achieving increased fuel economy.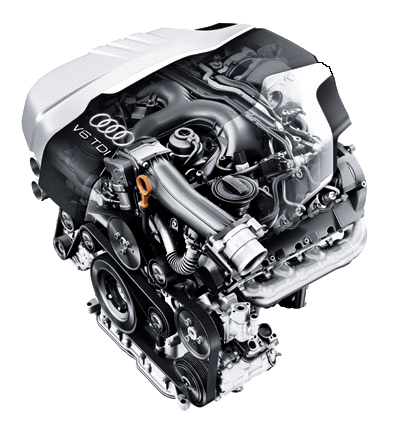 When compressed thinking turns into a big idea.
The fuel itself was named after a German engineer, but he didn't invent the fuel, he invented the engine that used it. It differs from the traditional gasoline engine in many ways, but the major difference, other than the fuel used, was the way a gas engine would mix air and fuel. With gas, the mixture would ignite with the help of a spark plug ignition system, while a diesel engine compresses air first at higher pressures, then injects the fuel. The hot, compressed air ignites the fuel without the need of an ancillary ignition system, to move the pistons. To the engineer, this high compression would lead to improved efficiency and power.1 And he was right. The average gas engine compresses at a ratio between 8:1 and 12:1, while diesel engines compress anywhere between 14:1 and 16.8:1, which shows how some things work better under increased pressure.
Why T comes first in TDI®.
Of course it's important to know where the efficiency comes from when it comesto diesel, but, ultimately, you also want to drive a performance luxury vehicle.  That means power and performance born of superior engineering. With the variable vane turbocharger in our TDI® clean diesel engine, you'll never forget you're in an Audi. From a performance standpoint, the adjustable turbocharger produces pressure not only at the top end of the speed range, but also across the full spectrum of the performance range, giving you elasticity ? so not only do you feel the punch of torque,(1) your passing speed between, say, 50 and 65 mph is also impressive. But, ingeniously, the engine design with its low rpm operating range also serves to help reduce fuel consumption at higher speeds, while adding a bit more acceleration with high torque at the lower end. That's how you get the T in TDI®, after all.(2)
Thankfully, there is always a catch.
Clean diesel, the kind that powers Audi TDI® clean diesel technology, is demonstrably cleaner than the fuel used in previous generations of diesel engines. Innovations have removed much of the pollutants, resulting in lower CO2 emissions than even the output from comparable gasoline engines—while still delivering greater fuel efficiency.(2) So what's the catch?  We have a few that further clean the diesel exhaust. The names might sound daunting—close-coupled oxidation catalysts, coated particle filters, active exhaust gas aftertreatment systems utilizing AdBlue® reducing agent, but the thing they do is simple. Audi employs these systems via sensors which detect the soot level and emissions of the exhaust to work at maximum efficiency, filtering excess pollutants and particles, which allows you, and everyone else, to breathe easier about clean diesel.
Diesel particulate filter
During normal driving conditions, the exhaust gas passes through the particulate filter. Thefilter then channels it through porous walls, catching larger particles to help clean the exhaust. During low engine load situations such as city traffic, exhaust gas temperature lacks the heat needed for oxidization, so fuel injection helps raise the temperature to between 1,150°F and 1,200°F to help oxidize the carbon soot before it reaches the particulate filter, further helping reduce emissions.


AdBlue® system
Featuring a reducing agent that is a pure, transparent solution of 32.5% urea and water, AdBlue® is a diesel exhaust aftertreatment that further purifies the exhaust by helping turn NOX emissions into harmless nitrogen and oxygen. AdBlue® is a nontoxic, noncombustible, biodegradable innovation that has helped make the use of diesel fuel in passenger cars OK in all 50 states, and has helped make diesel even cleaner.

Audi TDI® clean diesel SUVs & crossovers
Efficiency is expected to carry more with the Audi Q5 and Q7 TDI® clean diesel models. In fact, they carry even more than families or camping gear, they carry the future. It's a versatile one, one that combines powerful torque with traditional SUV convenience, but
never one that forgets its luxury lineage. Their diesel engines provide the torque which helps deliver powerful towing performance. They teem with thoughtful touches and innovations. Standard leather seating surfaces, available Audi connect®,(1) rich decorative wood inlays and available Audi accessories can bring out even more in your drive. From the five-passenger Q5 to the three-row, seven-passenger Q7, these incredibly efficient SUVs elevate luxury diesel and make it something iconic and more.(2)
Audi TDI® clean diesel sedans
So seductive and stylish, the word "sedan" seems a bit small. Instead, the Audi A6, A7 and A8 L TDI® clean diesel Sedans should be described in somewhat bolder terms: spectacular, perhaps? Stately? Stunning? To a vehicle, they share the Audi DNA throughout.
This is an A6, just as you know it, loaded with technology, effortlessly powerful and endlessly nimble. The A7 is every bit the iconic style leader, cornering with confidence and effortless precision.  The A8 L, of course, is still the executive's choice, the pinnacle of the
automaker's craft, a statement of cultivated tastes and well-defined performance — as well as a vehicle that provides better mileage than hybrids in the same segment.(3) These aren't simply sedans, they are ultraefficient luxury diesel sedans, proudly wearing the four rings and TDI clean diesel designation.(2) Collectively, they are a signature achievement.   
(1) Obey all speed and traffic laws. (2) See
www.fueleconomy.gov
for EPA estimates. Your mileage may vary. (3) Based on EPA estimates for 2013 Mercedes Benz S400 hybrid (19 city/25 hwy mpg) and Audi A8L TDI clean diesel (24 city/36 hwy mpg) models. Your mileage will vary.